12 Guiding Principles Brochures and Slideshow Presentation
Digital Brochures:
Digital Downloads are 
available in 
English, Spanish, Italian, and German
.
Sign up for email updates and notifications
 and 
download your free digital version of 

The 12 Guiding Principles 

brochure
.
Printed Brochures: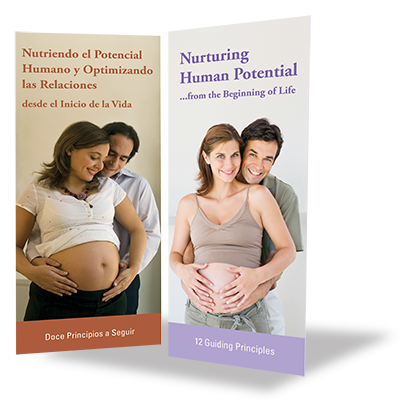 Brochures are available in English and Spanish, and contain the same information as the digital brochures. They are printed in full color on 100 lb. gloss book with an aqueous coating, with a double gatefold, sized 8.5″ x 14″. The brochures may be purchased in bulk. Shipping costs are additional.
Usage Agreement for the 12 Guiding Principles
You have our permission to distribute the PDF brochures digitally.
Please purchase the printed brochures to distribute in hardcopy.
All photos are copyrighted. Please do not copy photo images to use for other purposes.
You have our permission to quote from brochures using proper APA citation. Please use the following citation as source:
McCarty, W.A. & Glenn, M., et.al. (2008, 2016, 2017).
Nurturing human potential and optimizing relationships from the beginning of life: 12 guiding principles from primary psychology. [Brochure]. Natural Family Living~Right from the Start: Santa Barbara, CA.
Permission to Publish the 12 Guiding Principles in Other Formats
You need to obtain written permission from Dr. McCarty to publish the 12 Guiding Principles content digitally or in print in any format other than direct distribution of the 12 Guiding Principles brochures provided on this website.
If you wish to publish the 12 Guiding Principles as part of a blog, website, presentation, article, book, etc., please contact Dr. McCarty.
PowerPoint Presentation of 12 Guiding Principles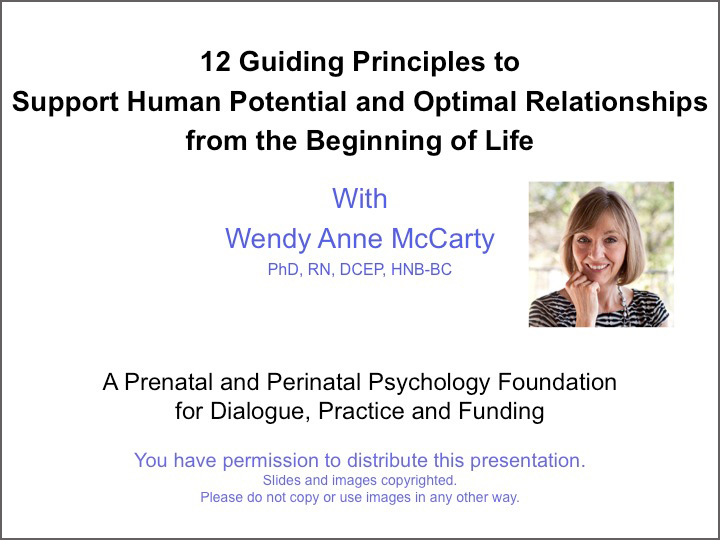 >Download PDF – PowerPoint Presentation slides
You may purchase a video recording of Dr. McCarty's APPPAH MONDAY LIVE powerpoint presentation: 12 Guiding Principles for Prenatal and Perinatal Psychology (September 17, 2018) for $19 here.
Quantity

100
250
500
1,000
2,500
5,000
Cost

$65.00
$150.00
$250.00
$400.00
$750.00
$1,250
To order brochures in bulk, please fill out the contact form below. We will contact you by phone for your credit card information.